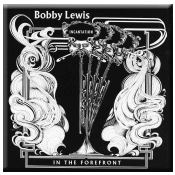 MUSICIANS
Bobby Lewis - Trumpet, Flugelhorn, Piccolo Trumpet, Cornet, E Flt Soprano Trumpet, F Alto Trumpet;
George Bean - Trumpet, Glugelhorn, Piccolo Trumpet, Cornet; Art Hoyle - Trumpet, Flugelhorn, Cornet;
Russ Iverson - Trumpet, Flugelhorn, Piccolo Trumpet, Cornet;  Rufus Reid - Acoustic Bass,
Jerry Coleman - Drums & Percussion
AMG EXPERT REVIEW:
The Chicago-based label Southport, has issued what could be called the ultimate trumpet album with this 2 CD set. Not only are most forms of music visited on this album, but virtually the entire trumpet family is represented - - brothers, sisters and cousins. In addition to the usual cast of brass characters, B trumpet, flugelhorn and cornet, there's the piccolo trumpet, bass trumpet and E soprano and the F alto trumpet for a trumpet lover's orgy. 
The first disc is a reissue of two 1977 LPs, Incantation and In the Forefront, while the second disc is made up of mostly previously unreleased material originally recorded in 1979. All of this is under the leadership of Chicago brass man Bobby Lewis. Lewis who, with his trumpet playing cohorts, engage in a variety of contrapuntal forms, like the fugue and the invention, as well as jazz, straight or otherwise, and other classical forms like trumpet voluntaries. Of course, there's the requisite Latin rhythm along with some rock. Cuts like "By Night "could be the soundtrack of a Film Noire. There are cuts which can be described as "lovely" like "Seasons" featuring the softer tone of the flugelhorn, wordless vocalizing by Bonnie Herman and the artful bass of Rufus Reid. 
Perhaps the most unusual piece on the album is "The Innermost Desire...The Outermost Expression", a suite lasting one minute under a half hour where Lewis plays all trumpets plus wind chimes. Another long composition, "Trumpetry", conceived for an orchestra of 10 trumpets, is done with 5 and rhythm through the use of overlaying. Cy Touff's bass trumpet playing is a highlight of this performance.
Mr. Lewis and his talented cohorts offer a lot of music with this album...more than two hours' worth.
There's variety both in form and tempo. 
This album is a fascinating musical excursion and is 
RECOMMENDED
.  --  Dave Nathan
CLICK FOR "JAZZ USA" REVIEW: