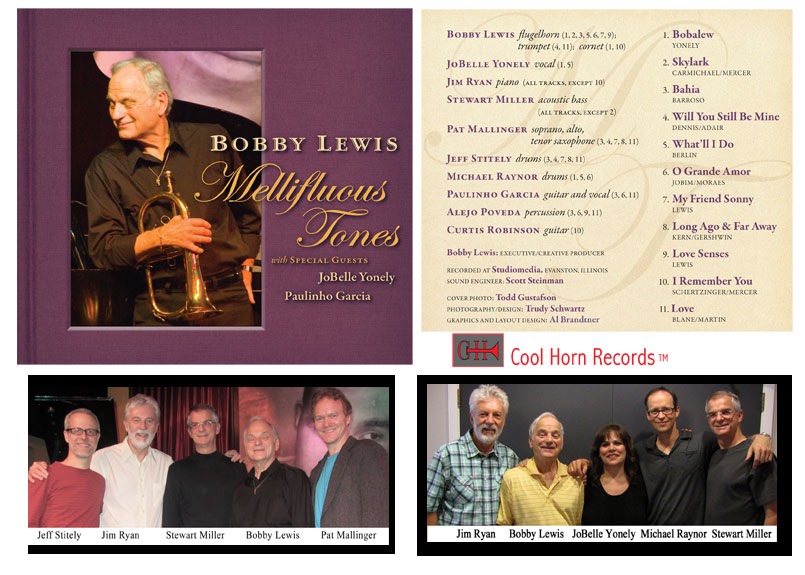 Bobby Lewis' trumpet has a seductive sound
Howard Reich
9:25 AM CST, March 6, 2014
Is there a gentler, warmer, more disarming sound in Chicago jazz than the trumpet of Bobby Lewis?
The music he makes has won him wide admiration through the decades, with Peggy Lee perhaps summing it up best.
Lewis, she once said, has "a sound like no other. I like him best when he plays in pastels, but every note is beautiful … is loving."
Indeed they are, as Lewis demonstrates on his aptly named new album, "Mellifluous Tones," which he's celebrating with an engagement this weekend at the Jazz Showcase. Featuring mostly standards and a couple of originals, the recording very nearly crystallizes what Lewis' art is all about, his lines long and silken and unfurled without fuss or pretense.
"I don't like to confuse people," says Lewis, his conversation as direct as his music-making. "I could play as loud as you want. … I like to let the listener in on what I'm doing.
"A lot of players plays as many notes that are as high as they want to. They use all their (technical) abilities to create what they want. Mine is a simpler approach."
Well, yes and no. True, Lewis is not afraid to dispatch a gorgeous melody essentially as written, even if also can transform a tune adroitly. But even when he's playing a straightforward ballad, he has plenty to say about the music at hand, the subtlety of his phrasing, nuance of his tone and understatement of his delivery getting to the emotional content beneath the surface of a song.
There's great musical subtext to Lewis' playing, in other words, which helps explain why listeners have treasured his work since he came to Chicago from his native Oshksoh, Wis., in 1961. That's more than half a century of music-making here, Lewis' work documented on 100 tracks spread across nine albums under his own name. And that's not including his radiantly melodic contributions to recordings of Ramsey Lewis, Curtis Mayfield, Jerry Butler, Jack Teagarden, Tex Beneke and many more.
On stage, Lewis' melody lines have dovetailed elegantly with vocals by Ella Fitzgerald, Tony Bennett, Lena Horne, Joe Williams, Mel Torme, Sarah Vaughan and, of course, Peggy Lee.
All of which make Lewis something of a Chicago treasure, the tracks of "Mellifluous Tones" underscoring the point. Listen to the high lyricism he brings to Hoagy Carmichael's "Skylark," the longing quality he expresses in Jerome Kern's "Long Ago and Far Away" and Irving Berlin's "What'll I Do" (with guest vocals by former Chicagoan JoBelle Yonely), and it's clear that Lewis has a great deal to say – in the most delicate ways imaginable.
All these tunes, and most others on "Mellifluous Tones," are of distant vintage, suggesting that Lewis seems to treasure our musical past.
When Lewis was making the recording, "I thought about that statement of Tony Bennett: They're not old songs, they're great songs," says Lewis. "I realized a lot of the tunes were written in the 1940s" or earlier.
"Actually, Trummy Young had a tune: 'Tain't What You Do (It's the Way That You Do It),'" adds Lewis, by way of explaining the endless interpretive possibilities that great music allows, regardless of when it was composed.
"Listen to all the different versions of Beethoven's Fifth Symphony. They can sound differently, though it's all the same music."
But there's something deeper than just age that connects the songs on "Mellifluous Tones": Most suggest a sense of yearning, which gives the entire album a softly plaintive quality.
"Until you just said that, I never thought about those titles being about longing," says Lewis. "Maybe so. … Maybe that is a connecting quality."
Whether that interpretive attitude has anything to do with the passage of time, since Lewis recently turned 78, is open to debate. Lewis knows full well that a big birthday ending in "0" is around the corner, and he acknowledges that "my approach now is just trying to maintain what I have and be on top of my game and keep going, keep doing what I like to do."
Yet he's also optimistic about his future, for no sooner did he receive the first copies of "Mellifluous Tones" than he started thinking about the next album, which he hopes to record soon.
"One of my idols was (trumpeter) Doc Cheatham – he was 91" when he died, in 1997, "and he was still playing. He told a lot of stories that were interesting. He was pointing (his horn) up to heaven.
"And I thought, I want to play when I'm 90, too," adds Lewis, who then cites another personal hero, the legendary Chicago Symphony Orchestra trumpeter Adolph "Bud" Herseth.
"He practiced and practiced and practiced – he was a practicing phenomenon. He maintained that endurance and that ability.
"I've been listening to some of the old (CSO) recordings – his trumpet is so amazing on there and so commanding. I think that Bud Herseth was the sound of the Chicago Symphony for many years. When he played ... you can hear him soaring above the whole orchestra.
"I want to be the Bud Herseth of jazz."
He practically is.
Bobby Lewis Quintet
When: 8 and 10 p.m. Friday and Saturday; 4, 8 and 10 p.m. Sunday
Where: Jazz Showcase, 806 S. Plymouth Court
Tickets: $10; 312-360-0234 or jazzshowcase.com
Copyright © 2014 Chicago Tribune Company, LLC